This is my way of reaching out to that 16-year-old Basant living somewhere in the villages and towns of Jammu, Kashmir and Ladakh.
Not exactly brilliant, that boy was insanely hard-working, confident and focussed. Didn't have money to eat three meals a day and buy books and attend coaching classes when he was preparing for IIT-JEE exam in 1988-1989. And failed to clear the entrance exam. Got into severe depression, joined arts stream and took sociology honours in his graduation course. Some kind-hearted people helped him with books. Some friends, some strangers, but not a single blood relative. Rabi Sir taught him sociology. And the boy who used to be ridiculed for his incessant stammering – in his village, schools and colleges – worked hard and reached JNU with a handsome monthly scholarship. And then he came to J and K.
There are many a 16 year old Basant walking somewhere in Gool, Gojwara and Kargil, dreaming their big dreams, skipping their meals to save money to buy books and whispering to themselves, "Boy (Girl), some day, some bloody August day, you'll stamp your presence on this planet and be of some good use to the people around you".
This is my attempt to reach out to those young men and women.
My dear young friends in Jammu, Kashmir and Ladakh, you'll have to convince me that you're hard-working and focussed. That you can write a personal essay without sweating and gasping too much. That you won't trouble me on Twitter DM, FaceBook and WhatsApp. If you find me trustworthy, please use this format to send me the list of books (irrespective of your educational background) you want for yourself or a friend who has no access to smartphones, internet and social media.
I won't let you down. And I expect you to respect my time and personal space.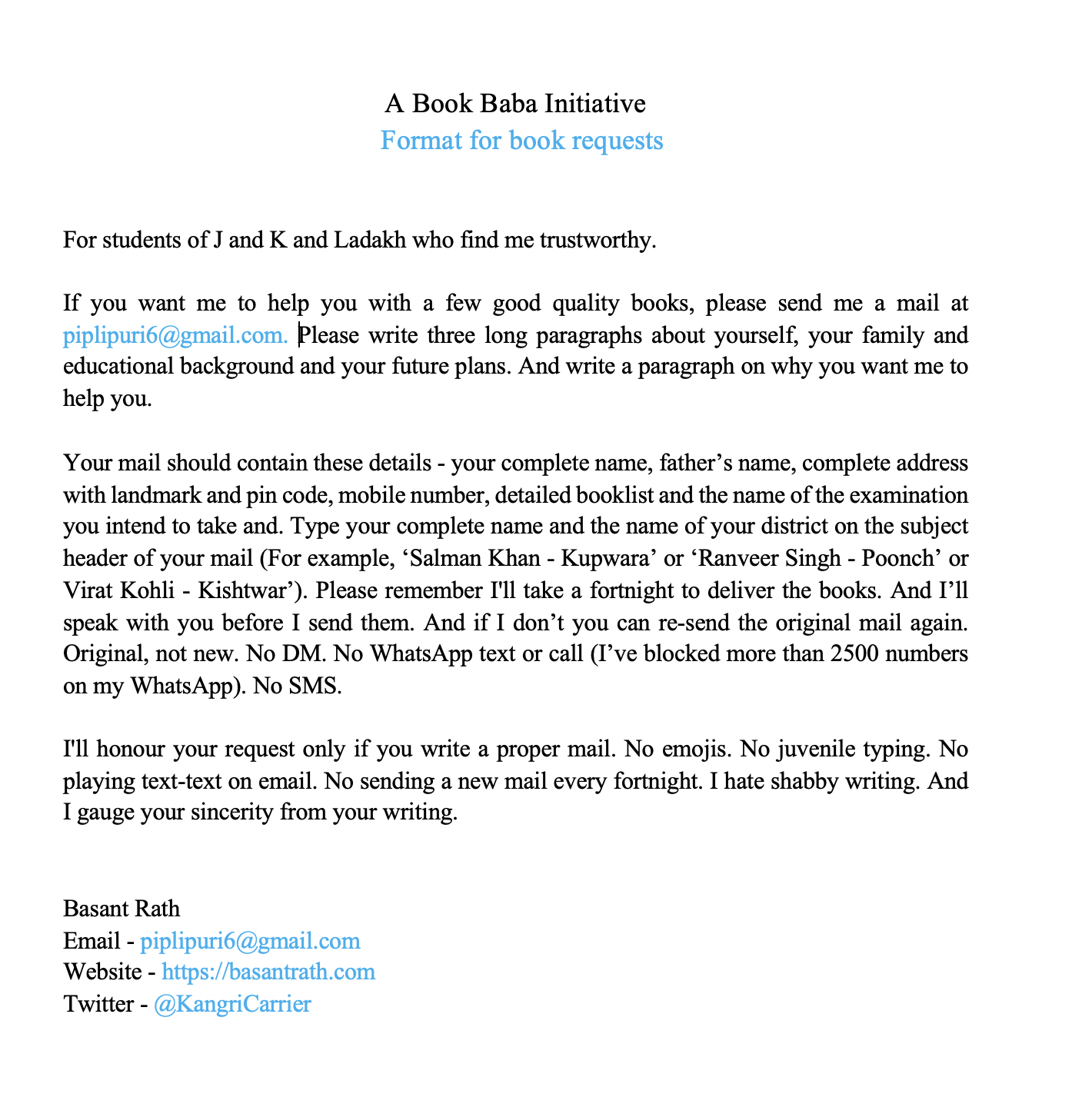 (Visited 3 times, 1 visits today)